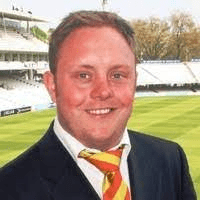 With club stalwart ANDY BOWKER…
Name: Andrew Bowker
Nickname(s): Bowks/Thrush
Batsman? Bowler? Allrounder? How would you describe your game? Batsman, very occasional bowler. Once able to mix it up reasonably well in the first team now resigned to trying to guide the youngsters in the 2s.
What got you interested in cricket? We lived a few hundred yards from the club and decided to come down and join in with Ken Grimes' junior coaching sessions. Followed this through at school and my passion for the game grew from there. Have remained at the club from an 11 year old until this day.
Who was/is your all-time cricketing hero? Mark Waugh, made the game look so effortless.
Who is your favourite current professional cricketer? Love watching Moeen Ali.
Who is the best player you have played with (both professional and amateur)? Been fortunate to have played with some seriously good professionals at the club like Ashar Zaidi, Robin Morris, Richard Chee Quee, Nishit Shetty. That said the best on his day was Usman Tariq, he could switch it off and on like a lightbulb and did it with a swagger. Best amateur is a tough one as we have had some high class players at the club. The Legend Mark Stewart stands out because I had the misfortune of sharing a dressing room with him for 20 years and there wasn't too many times when he didn't come out on top. Andy Kerr, Phil Heaton and Andy Williams run him close on talent and admirable mention must go to Andy Downton who played with us as an amateur but had a successful career with Tasmania in Shield Cricket.
Who is the opponent you most admired as a player? Grew up playing junior cricket with Chris Barrow and he was one we always talked about who could take a game away from you with bat or ball.
What was/is your favourite away ground? Always enjoyed going to Bradshaw, good ground, good wicket, good set of people and a short five and drive back to the Log Cabin.
What is the most memorable match you played in? Many would expect the Lancashire Knockout final in 2011 here but I would say a couple of weeks before that when we secured the Bolton League for the first time in 20 years at Little Lever. It felt like we had got so close for years and there were people in that side who were too good not to have won at least one. There was a genuine sense of relief that day and winning the LKO final a couple of weeks later felt like more of a formality.
What has been your personal 'champagne moment'? Receiving a letter to tour Hong Kong and China with MCC. An experience which will stay with me for a lifetime.
What is the funniest thing you have seen on a cricket pitch? Both of which involve our groundsman Andy Skinner and both of which are too long to regale here however the first was him sliding through a ditch at Heaton and the second was when he had his legs taken from underneath him at Farnworth Social Circle. Anthony Smith's reaction to this lives with me to this day. It's worth asking anyone of that vintage about these.
Did/do you have any superstitions? Change as far away from Stewie as possible.
If you could go on a night out with three cricketing celebrities, who would they be and why? We would always be told the stories of the "good old days" when the West Indians were in town and the shenanigans they got up to in years gone by so you can't look past Sir Viv and maybe Malcolm Marshall for a good night out. Throw Phil Tufnell into the mix and you've got a good night that wouldn't be too cricket heavy on the chat.