So go on then, Barbie or Oppenheimer over a wet weekend?
The entire league programme was washed out leaving it very much "as we were" for the first team in fourth place with now just seven matches to play.
Has there ever been a summer like it? We have now seen five matches (four at home) completely washed out and just three where rain has not affected the game in some way.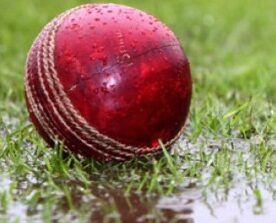 There are now only three remaining home fixtures with a particularly big one looming against table topping Church on 6th August.
Before then, minds are focused on the weekend ahead with a trip to East Lancs, who are only four points behind us in fifth place.
It's definitely still all to play for with just 25 points separating the top seven teams and 16 between us and a promotion spot.
We need a big final push for the last seven weeks of the season  and we have to rise above the weather and just focus on playing one match at a time – that's a lot of cricket to play and there's plenty of opportunities for us to go out and take.
Meanwhile, here's a bit of an appeal to common sense please – we've started the week with the cancellation of tonight's under 11 fixture – although it's a dry day and for anyone scratching their head, be assured the ground is still wet through after 48 hours of continuous rain.
I know it looks fine from the road however on the ground it is extremely wet!!
Can we please ask for people to stay off the grass especially in front of the pavilion and anyone using the nets to walk around the boundary perimeter and not across the square.
It's not a massive ask but it's fair to say that ground care has been even more challenging than usual this season and everyone can help by respecting the playing area.
Thanks in advance for your help and support, fingers crossed for better weather this weekend!