Friday was a washout as the early season poor weather returned with a vengeance so the highly anticipated T20 quarter final is rearranged for this week!
Be there in your numbers and get behind the team as we look to qualify for the prestigious finals day on 28th August.
On to Sunday and a potential banana skin at a green and soggy Rishton pitch.
As Travis lost the toss it was no surprise that we batted first but the score of 265-7 belied the sticky batting conditions.
The highlight of the innings was another century for professional Jacques Snyman who reached 1000 runs for the season.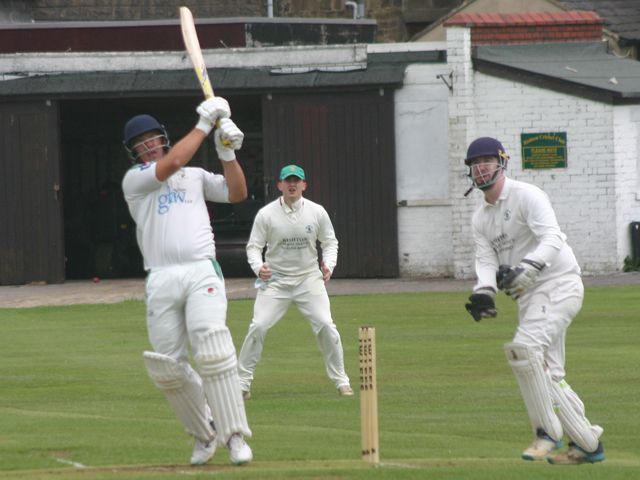 What a special season he's having, 1092 runs at 99.27, four centuries and four fifties, we need him to keep up this rich vein of form for the season run in with just ten league  games remaining.
There was also a very welcome return from Travis who carved out an excellent 61 from just 50 balls to ensure momentum was maintained.
The Rishton reply was sufficiently spirited to ensure we ended up without maximum points but still climbed to fourth place.
Callum Hunter rounded off an excellent all round display adding to his effective unbeaten 24 with his first five wicket haul of the season.
Cal had four bowled and one LBW and included the scalp of professional Dale Phillips first ball, he is now top of the league bowling charts for amateur bowlers – a fantastic performance season to date.
Unfortunately we couldn't prise out the last two wickets and the game ended with Rishton 43 runs short.
It's a big weekend to come at the Mount as we host Crompton on Sunday. Our opponents lie in third place just six points ahead and the top two teams Church and Middleton face off the same day.
The fight for promotion is well and truly on and as we enter this last ten game run it's all to play for and promises to be an exciting few weeks.
Meanwhile, after last week's victory the second team lost at home to Rishton in a game which mirrored the shape of the first team encounter.
Rishton posted 264, helped by an unbeaten century from opener Adam Hussain and unfortunately an incredible 35 wides from the Greenmount attack.
Wickets came the way of Richard Catterall (2) Luca Addleton (2) Ewan Malone (2) while Matt Senior and Nigel Hallows claimed one apiece.
There wasn't enough legs in the Mount response and we finished 52 short. A number of batters got themselves in, Jake Chadwick top scored with 46, Nigel Franklin 29, Matt Senior 26, Kieran Edwards 23 and a welcome show of form from Nigel Hallows with a fine 34 but unfortunately nobody played the lead knock to score big and get us over the line.
With ten games to go, we are currently bottom of the league but the goal remains to change fortunes and climb up towards mid-table as the week's progress. Starting this week away at Crompton.
There was no third team match this week after last week's excitement and sadly the planned fourth team match with Prestwich was another victim of the poor mid-summer weather. Let's hope for a return of the warm and sunny stuff sooner than later!