Ahead of the new 2023 Lancashire League campaign, Greenmount CC Head of Cricket John Stevens has taken time out to welcome and interview the club's new South African professional Jacques Snyman on all things cricket.
GMCC: Hi Jacques, welcome to Greenmount CC, we are so excited to have you here – please introduce yourself and let us know a bit about you and your family
JS: Good day everyone! Thanks for welcoming me John and everyone at Greenmount Cricket Club.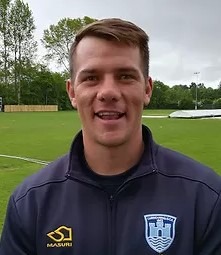 I am really looking forward for the season to start and do my very best to help the club achieve success. I am Jacques Snyman and will be the professional for Greenmount Cricket Club.
I am 28 years old and born in South Africa. I am an all-rounder and love the game. I really like giving back to other cricketers and help them to improve their games.
In my off time, I like to fish and play a round of golf. I am now married two years in September and me and my wife just had a baby girl. She is now six months old and all three of us can't wait to be over in Greenmount. Me, my dad, mom and brother love cricket and I was introduced to the sport at a very young age.
GMCC: And this isn`t the first time you have visited the UK as a professional – what has your previous experience been and what were the main lessons learned?
JS: This season will be my 6th season overseas and Greenmount will be my fourth club overseas. I am really looking forward to wear the Greenmount badge with pride.
In my five previous seasons overseas, I've only had good experiences where I've been and love the support and spectators at the ground, which makes the game even better!
I'm sure Greenmount will be great and that we will have a great season and get to the first division in the following season. I've developed my game a lot overseas in past by taking ownership and the enjoyment factor is always there as everyone wants to get better.
So how has the recent season gone for you on the home front in South Africa – we have been watching you on TV!
JS: My season in South Africa just finished, we had a great T20 competition where my home team lost in semi finals. Then we played a one day cup where I didn't do great but learnt a lot and played two four day games that went okay. I believe Greenmount will bring out the good in me again and I can hopefully score a lot of runs and wins for Greenmount.
GMCC: Turning to the Lancashire League, what are your thoughts on the season ahead and what can we expect to see from this Greenmount team?
JS: I am really looking forward to the Lancashire League, heard it's strong and competitive which I love. I know we have a young and talented side so can't wait to get over and put in good performances with the team. For me, on a personal note, I want to dominate the league and my big goal is for Greenmount to win the league and get promoted.
GMCC: It is going to be an interesting summer with the Ashes – who do you see coming out on top and why?
JS:  I am definitely backing England, love the brand they play with and the way they go about their business since Brendan McCullam took over.
GMCC: And what are your thoughts on the current England team and their Baz Ball style? What`s made the difference?
JS: I love that the Baz Ball style was brought in. I love the positive way they play and take on the game and they back their plan which is great to see.
GMCC: Looking at world cricket in the next 5 years who do you see as the new emerging players who will dominate and create new legends?
JS:  The first one that comes to mind is definitely Harry Brook, he is definitely one for the future. Then other names is Aiden Markram, Marnus Labuschagne, Travis Head, Devon Conway, Anrich Nortje and Liam Livingston.
GMCC: What do you see as the future for test cricket?
JS:  I think the way England is playing now, a lot of other countries will try and do but don't think it will suit all the other nations. But can definitely see a more attacking approach from teams in the future.
GMCC: What is your preference: Test, T20, ODI?
JS:  My preference is definitely T20 cricket but any format where I can be on the field is the best feeling ever so I love all three formats.
GMCC: So good luck for the season ahead, do you have a special message for the Greenmount supporters and members ahead of your arrival?
JS:  I would definitely ask all the members at Greenmount to get behind us this season. We would love all the support from you all as we know we will have a great season and it will be nice to have all the support behind us on weekends. We will definitely play a great brand of cricket, we all hungry for promotion and your support will be appreciated.
GMCC: Thanks Jacques, we are all looking forward to welcoming you at the Cabin!