The weekend starts on Friday with Junior Practice which is due to begin at 6pm.
No matches are scheduled for Saturday.
After rain cut short both matches last weekend, the firsts and seconds play against their Nelson counterparts this Sunday.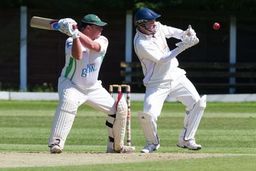 The firsts travel to Seedhill while the seconds entertain Nelson's seconds at the Log Cabin. Both matches are scheduled to start at 1pm.
Our friendly XI also travel to Edenfield on Sunday for a match that starts at 2pm. We wish Ryan, Alex and Leigh the very best of luck as they lead their teams into action on Sunday.
With the clubhouse now open, members and visitors are reminded that covid regulations mean that drinks can only be ordered from our waiting on staff and that all drinks must be consumed while sitting down.
Social distancing regulations remain in force both inside and outside, whilst the Rule of Six/two household limits the number of people sat in groups inside.
Masks should be worn in the clubhouse when people are stood up although exemptions do apply.
Visitors are kindly requested to log onto the track and trace app or give their details to waiting on staff while track and trace details will be automatically collected for members when they order.
Let's hope the weather gods treat us well and if so, it would be fantastic to see you down at the Log Cabin at some point over the weekend.
If the weather does turn out to be as bad as forecasts suggest then updates on the impact of this on the cricket will be posted on our website (greenmountcricketclub.com) and via Twitter and Facebook.
Take care.
ROB KILVINGTON (GCC chairman)