As the Coronation and its promise of another extended weekend approached, there was more speculation about the prospect of two successive games for the first weekend of a very damp early May.
For anyone unfortunate enough to have been at Norden on Thursday night for the under-15 cup fixture, the conditions swung from Baltic to Arctic with high winds and freezing rain – only eased mildly by a fine entertaining unbeaten 50 by 11-year-old Rupert Hallows and some lusty hitting from Ed Dickinson.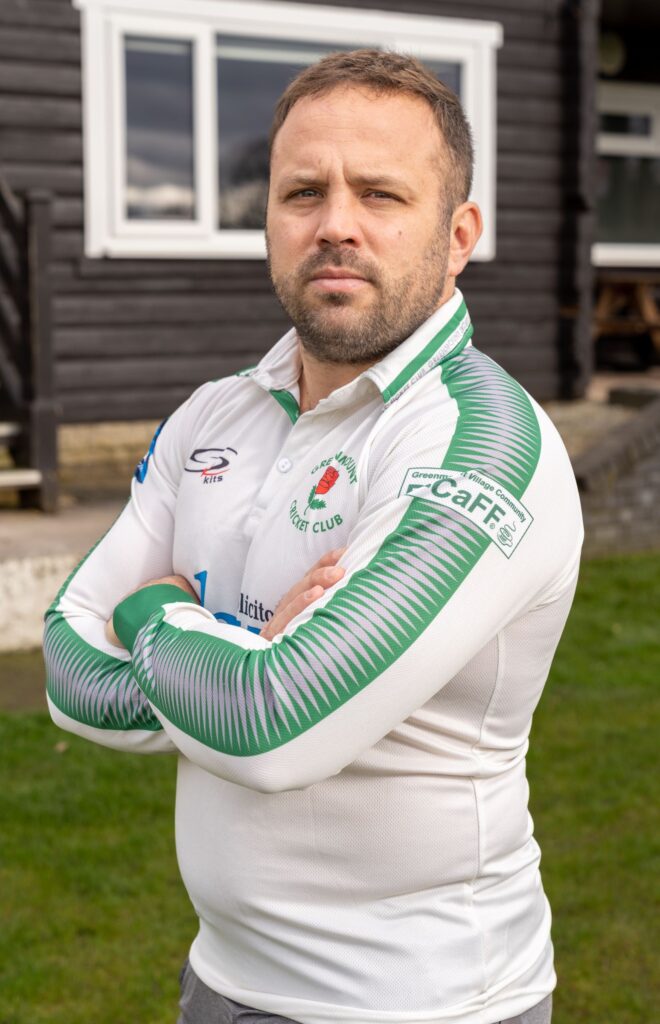 But surprisingly both first and second team Worsley cup fixtures with Church started on time.
The first team lost the toss and Church chose to bat. Jacques Snyman made his long-awaited home debut and Jack Thomond also made his first home appearance while there was also a home debut for 15-year-old county age group player Max Birtwistle.
In an innings which ebbed and flowed as both sides battled for momentum, it was Church who emerged in the ascendancy thanks in main to an excellent innings of 135 not out from Kelan Florentine who plundered eight sixes and eleven fours.
Skipper Josh Scully compiled a good 40 before being caught and bowled by Evan Williams who finished with 3-49 while Jack Thomond took 2-53 on debut.
Greenmount needed a good start however Florentine put paid to that with the early wickets of Williams, Tom Heaton and Andy Kerr to have the Mount against the ropes on 18-3.
The stage was set for professional Snyman to repeat the pyrotechnics from Crompton in partnership with Travis Townsend but just as the South African duo looked set to consolidate they were both removed by sub pro Gohar.
This brought Dan Stevens and Ryan Senior together for a rearguard stand of 87 which most unfortunately was halted by bad weather just as they had arrested momentum from Church and were looking likely to turn things round.
Stevens launched three sixes in an over and despatched Gohar for a fourth to reach his 50 as the rain came – once the players resumed the match fizzled out to another unsatisfactory DLS fuelled end with Ryan Senior unbeaten on 35 and Stevens bizarrely given out from the last ball for a fine 60.
Turning attention to league duty on Sunday it was critical to actually complete a match as the team travelled to Middleton with the previous three all washed out.
Travis won the toss and chose to bowl first and this time the Mount bowlers hit their stride very quickly with Callum Hunter firing out three early victims including the dangerous James Price who scored a fine century against us last season.
Middleton continued to lose wickets at regular intervals as Jacques Snyman bagged 4-44 and Travis Townsend 2-15. Hunter finished with 3-12 and Sammy Greenhalgh took a hat trick of catches as the opposition fell for 97 from 30 overs.
The Greenmount reply started very positively and at 35-0 it seemed like a routine stroll before a mix up saw Tom Heaton run out for four, with Evan Williams then bowled for eleven to make it 35-2.
Wickets continued to fall with Townsend the victim of another strange decision but leaving the innings finely balanced at 66-4.
Andy Kerr and Dan Stevens then steadied the ship somewhat with a partnership of 24 before both fell to Dale Highton for 24 and 16 respectively, leaving just four runs to win but still leaving time for another wicket to fall leaving the margin of victory less than would have originally been expected.
We were also grateful for the penalty runs conceded by Middleton but in truth should not have needed them – however how many times have we seen low scoring games play out in this way, one of the vagaries of the game, the key point is we have registered the first win and 12 points takes us up to fourth place with a LOT of cricket to play.
The second team cup match with Church on Saturday saw a very youthful side lose at Church but only after a positive bowling performance which included a great start to senior cricket for Ben Clarke who bowled 10 overs for just 23 runs.
There were wickets for older brother Adam, Ollie Dixon, Ed Dickinson and Rupert Hallows. Unfortunately the Greenmount batting response was a collective horror show resulting in being bowled out for just 53 – only Mark Crowther with 17 and Rupert Hallows (15) registered double figures.
On Sunday the seconds hosted Middleton with a more experienced line up including Andy Bowker Nigel Hallows and Danny Hornby.
Middleton compiled 236-8 which unfortunately was bolstered by 40 extras, Rupert Hallows bagging 3-44 and Danny Hornby 2-52.
Once again the batting reply never quite fired with several batters reaching double figures only to not kick on. It was left to a tail end flurry from the returning Richard Catterall with a typically breezy unbeaten 21 including three fours and a six while young Ed Wackrill – on his second team debut – supported nicely with 13 not out and two fours.
The second team are in a lowly position after the first four weeks however not helped by lack of consistent availability of more established senior players, whilst this situation remains it will mean more opportunity for our young players but will equally offer them a very steep learning curve!