Greenmount first eleven got their inaugural taste of life in the Lancashire League top flight on Sunday when they went down by 67 runs at champions Burnley on the opening day of the 2022 campaign.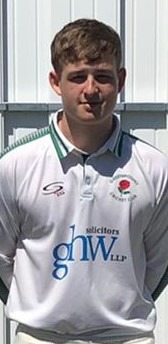 Some great work in the field – and four wickets from Lewis Dove – restricted the home side to 193 for 5 from their 50 overs after Ryan Senior won the toss and elected to put Burnley in to bat.
Leading the way for the Turf Moor side was South African professional Ockert Erasmus who smashed an unbeaten 76 while Qasim Shah chipped in with 34.
In reply the villagers made a steady start with pro Chesney Hughes and fellow opener Jack Harrison putting on 58 before Harrison was caught-bowled by Erasmus.
There followed a steady fall of wickets as the Mount's hope of a morale-boosting win at the home of the champions became a forlorn one.
The spin combination of Erasmus and Bharat Tripathi proved to be the difference with only Andy Kerr (11), Dove (17) and Andy McGuinness (11 not out) joining the openers on double figures.
While an opening day defeat – and no points to show for their efforts – isn't the greatest start, there was plenty to encourage in the display against a team that will no doubt be there or thereabouts when the trophies are handed out at the end of summer.
Meanwhile, at the Log Cabin, the club's second eleven took on Littleborough seconds in the sunshine.
However, it was a disappointing result for Oliver Dixon's side as they lost by 63 runs.
Littleborough won the toss and elected to bat and thanks to a great knock of 86 from Shazan Reeza, ran up a total of 161 all out from 37.2 overs.
It was looking good for the Mount as Alex Bullen blasted a quickfire 22 including two sixes, while Patrick Kilvington and Matthew Senior hit 25 apiece. But 85 for 3 quickly became 94 for 9 then 98 all out with skipper Dixon unbeaten on six.
It wasn't all doom and gloom though as Mark Crowther's third team picked up a 74 run victory up the valley at Rawtenstall.
The home side's decision to put Greenmount in proved to be a mistake as the villagers put on 173 in 35.2 overs.
That score owed a lot to evergreen opener Nigel Franklin who hit a fine 89 which included eight fours and three sixes, while debutant Wes Young scored a useful 40.
The Mount total proved insurmountable for the Rawtenstall side who were dismissed for 99 with pride of place going to youngster Eaun Malone who took a superb 4 for 3 from 4.4 overs to show great promise for the future.
Sam Woolley and Steven Addleton added two wickets each with the remaining one falling to Matthew Gilmore.