Building on from good cup runs – the under-15s reaching the final and the under-13s the semi-final – it was time for both teams to concentrate on the league.
The under-15s dominated their section, winning all 12 out of 12 games and most in some style!
With commanding batting at the top of the order by skipper Max Birtwistle (397 runs) and Edward Dickinson (352 runs) the under-15s blew most teams away – including their closest rivals. There were 50s from Max, Edward, Tom Clarke, Noah Birtwistle, Rupert Hallows and Ben Clarke.
During the campaign all the squad contributed and it was especially pleasing to watch our younger players stepping up to help out with runs, wickets, catches and all round good fielding performances.
Tom Clarke claimed seven victims behind the stumps and Edward Dickinson took five catches. Ewan Malone finished with 13 wickets, while the best bowling performances were Ben Clarke four for just three runs and Jonty Whitehead four for five runs.
After winning the league, coach Richard Birtwistle thanked all the parents for their support during the summer and told the players how proud he was of their efforts saying: "Well done to everyone for last night and for a brilliant season. Played twelve and undefeated. Worthy title winners and invincible."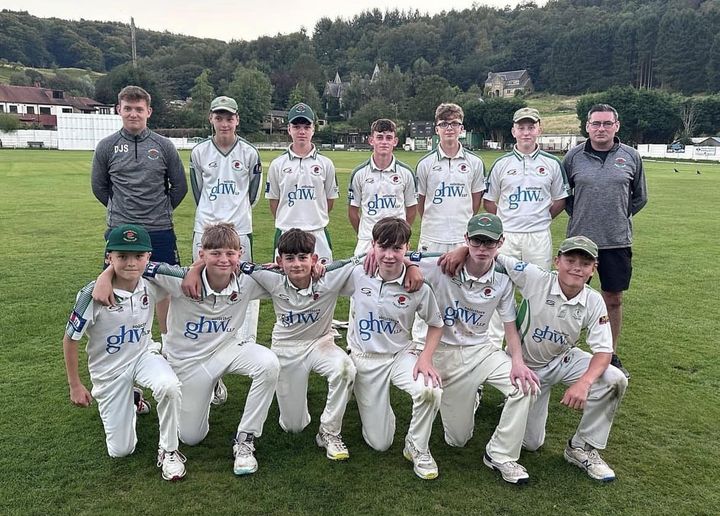 Our U13s also won their league, winning 13 out of 14 games, securing the title away at Todmorden, with one game to go.
If Tod had won the match, the league would have been shared between them, the Mount superstars and Rochdale.
Winning the toss, Greenmount elected to bowl first and restricted the home side to just 64 for 7 off their 16 overs – the Greenmount reply saw the team win with five overs to spare with the loss of just one wicket.
Throughout the campaign there was superb top order batting from skipper Noah Birtwistle (345 runs), Ben Clarke (373), Eduardo Wackrill (298) and Rupert Hallows (232) while George Kenyon, Harry Nuttall and Dexter Crowther all finished with more than 100 runs for the summer.
Ben Clarke finished with 23 wickets, Noah with 13 and Eduardo with 10. Ben also took the plaudits for best bowling performance with five for only three runs at Rishton and Freya Franklin took 4 for 16 at home to Littleborough.
Throughout the season everyone contributed at different points with bat and or ball and again we were able to enjoy debuts from players from a younger age group who stepped up comfortably.