Greenmount Cricket Club are indebted to the late Stuart Holden whose painstaking research has given us the chance to learn about the seven young friends, and Greenmount CC players, who lost their lives in service during the Second World War.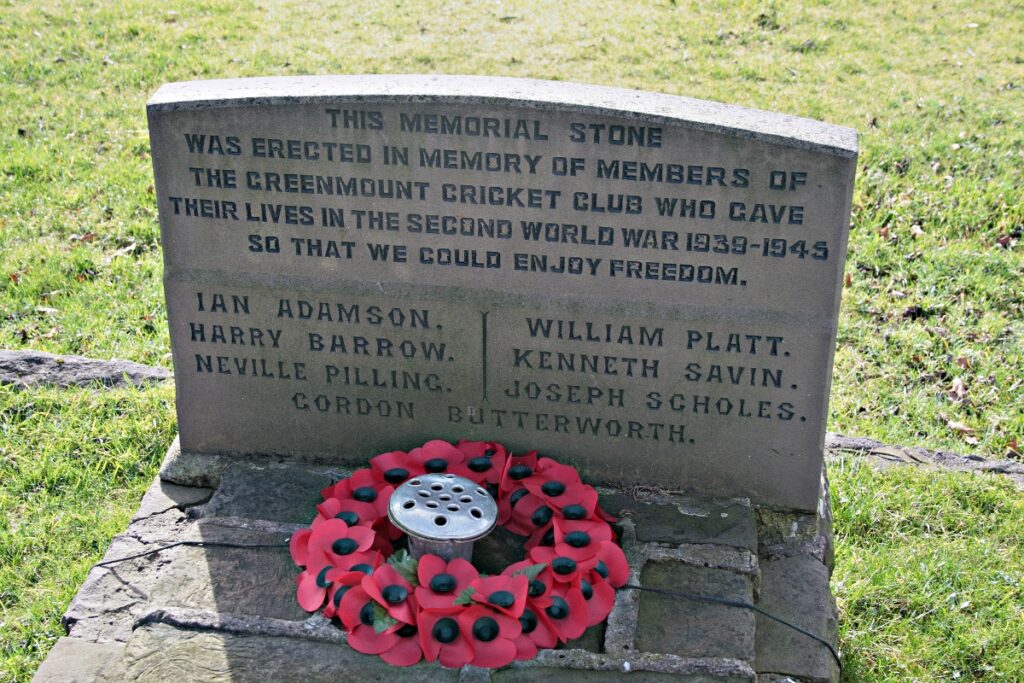 GREENMOUNT CRICKET CLUB MEMORIAL HEADSTONE
LIEUTENANT IAN RONALD ATHERTON ADAMSON
(Royal Navy) 1919-1944
TROOPER HARRY BARROW
1921-1945
STOKER MECHANIC GORDON BUTTERWORTH
1920-1941
LANCE CORPORAL NEVILLE PILLING
1920-1944
ORDINARY SEAMAN WILLIAM PLATT
1920-1940
CAPTAIN KENNETH SAVIN
1921-1946
ENGINE ROOM ARTIFICER JOSEPH SCHOLES
1920-1942
The original headstone at Greenmount Cricket Club was the idea of Clifford Mills and was on the west side of the ground.
Poplar trees were planted as a remembrance to the members of the club who died in WW2 and the inscription on the original stone explained this. These poplar trees mysteriously died and later the stone was moved to its present roadside position.
The chairman of Tottington District Council, Councillor C. Mills, officiated at the unveiling of the original stone and it was dedicated by Rev. D. J. Chappell. After the dedication there was a reading of the well-known extract from Laurence Binyon's Poems For The Fallen.
"They shall grow not old, as we that are left grow old"
An open air service was conducted by Mr Chappell, assisted by Rev Stanley Lewis. More than 500 people attended the event. The new stone replaces the original stone due to the incorrect inscription.
The inscription on the original headstone was:
"The poplar trees on this side of the cricket field were planted to commemorate the memory of members of Green Mount Cricket Club who gave their lives in the Second World War 1939-1945 so that we could still enjoy freedom."
The standard tribute to those lost in the World Wars and taken from Laurence Binyon's Poems For The Fallen
They shall grow not old,
As we that are left grow old.
Age shall not weary them,
Nor the years condemn.
At the going down of the sun,
We will remember them.
LIEUTENANT IAN RONALD ATHERTON ADAMSON
(Royal Navy) 1919-1944
The son of William (Bill) and Florence Adamson. They lived at 'Brooklands', 265 Holcombe Road, Greenmount. Ian served aboard HMS Uganda, which had been hit by a glider bomber off Solerno, Italy. Uganda was too big to be repaired elsewhere so was taken to the US Navy yard at Charleston, South Carolina. Here he was taken ill and, while in hospital, was given an injection by an American nurse. It is alleged she gave him the incorrect measure and the injection killed him. His parents, who were at that time in Australia, could not return to the UK until after the war. His father was working in Australia for Charlie Walmsley's of Bury. The ship was later re-commissioned by the Royal Canadian Navy in 1944 and became the largest and strongest warship in their navy. After many years of duty around the world, she was sold for scrap to the Japanese in 1956.
Died aged 25 on February 5, 1944
Buried at the Beaufort National Cemetery, South Carolina, USA
Post Sec Grave 55
3859211 – TROOPER HARRY BARROW
18th Regiment (5th Battalion The Loyal Regt) 1921-1944
Born on October 12, 1921, a motorcycle despatch rider in the Reconnaissance Corps. The third son of Greenmount's local bobby, PC 1065 William (Bill) Alfred Barrow and Ada Ann Barrow. Harry had two brothers, Jack and Leslie, and three sisters, Amelia Lavinia, Mary Agnes and Nellie. They lived at 'The Police House', 305 Holcombe Road. Harry was posted to Singapore which, in 1942, was under Japanese occupation. As the troops disembarked from their ships, they immediately became prisoners of war. Harry worked on the Burma Siam death railway.
Died as a POW aged 24 on August 12, 1945 (VJ Day – three days before the war ended)
Buried at the Jakarta War Cemetery, Indonesia, Grave Ref 2.B. 14
D/KX93166 STOKER 1st CLASS GORDON BUTTERWORTH
1920-1941
The son of James William and Lilian Butterworth. They lived in a small cottage to the rear of 'Tittleshaw', 441 Holcombe Road, Greenmount. He had a younger sister, Jennifer. As a member of the crew of HMS Diamond, a D class British destroyer, having evacuated 600 troops from Crete, their ship was spotted by some German Junkers JU-87 Stuka dive bombs. The precise bombing devastated the ship and it rapidly sank. Gordon, along with 147 other crew went missing.
Died aged 21 on April 28, 1941
Remembered at the Plymouth Naval Memorial Panel 52 Column 3
3866184 LANCE CORPORAL NEVILLE PILLING
1st Battalion The Loyal Regiment (North Lancashire)
1920-1944
Born July 7, 1920, the eldest son of John Edward and Mary Alice Pilling of High Bank Row, 353 Holcombe Road, Greenmount. He had two sisters, Ira and Betty and one brother, Jack. Neville was a signaller in Anzio, Italy. The Americans were supposed to clear a path through a minefield. The following day, British troops were sent through. Having stood on a landmine, Neville became paralysed and died one week later in hospital.
Died aged 23 on April 6, 1944
Buried at the Solerno War Cemetery. Grave Ref. VB 28
C/SSX 29710 ORDINARY SEAMAN WILLIAM PLATT
1920-1940
The son of William and Annie Platt. They lived in a small cottage next door to the original Naylor's Green Hotel. He had one brother, Jeffery and an older sister. Their father was the stationmaster at Greenmount station. William served on HMS Willamette Valley, a freighter which was sunk by a U-boat in the South West approaches.
Died aged 20 on June 29, 1940
He is remembered at the Chatham Naval Memorial Ref. 36.3
EC/12191 CAPTAIN KENNETH H. SAVIN
Member of the Indian Ordinance Corps
1921-1946
Son of James and Susan Savin of 416 Bolton Road North, Holcombe Brook. With them lived Mr & Mrs Hallows, who were Ken's maternal grandparents and coal merchants in Holcombe Brook. Ken had an older sister, Jennifer, who married a tea planter before the war and went to live in the Nilgiri Hills in India. Ken Savin was accidentally killed in India when being driven down a mountainside by a member of the Indian Army. Their vehicle went over the side and both were killed.
Died aged 25 on January 21, 1946
Buried in the Delhi War Cemetery. Grave Ref. 6.A.8
D/MX73359 ENGINE ROOM ARTIFICER 4th CLASS JOSEPH SCHOLES
1920-1944
The eldest child of Richard (Dick) Scholes of Joseph Scholes and Sons Ltd, Storm Hill Works, Tottington and Laura C. Scholes, who lived at 'Lyndhurst', 340 Holcombe Road, Greenmount. He had one sister, Jean, and two brothers, Tom and Alan. A submariner on a Tempest Class submarine HMS Traveller. All 63 hands were lost when either hit by a floating mine or a depth charge in the Gulf of Taranto.
Died aged 22 on December 12, 1942
Remembered on the Plymouth Naval Memorial – Panel 68, Column 3