Professional Jacques Snyman lit up a largely dull and damp day at Crompton with a sparkling 96 on his debut, but the Mount endured a frustrating post-tea session as the game was eventually called with the home side somewhat adrift of the adjusted target .
Snyman struck six sixes and seven fours in a 54 ball knock of awesome power which is hopefully the prelude of entertainment to come.
It was the highlight of an all round excellent team performance with the bat. Put in to bat doubtless with a nod to the weather, Tom Heaton and Evan Williams started confidently and quickly.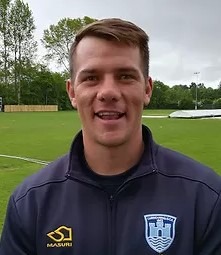 New dad Tom being especially quick to punish any loose bowling and he celebrated the first half century of the season with two sixes and five fours.
After Tom fell for 53 Andy Kerr and Williams continued to build an imposing score and it was a surprise when Kerr departed for 23 just one short of another 50 partnership.
Celebration for Crompton was short lived as Snyman took centre-stage and quickly asserted a turbo drive to proceedings.
Meanwhile Evan completed an assured stand of 58 before exiting with 60 to bring new skipper Travis Townsend to the wicket. The South African duo added a very entertaining 80 before Townsend was dismissed for a breezy 23.
Snyman departed just one run later for an excellent 96 and it was a real shame such a debut performance fell just four runs short of a wonderful century.
With eight overs to go Greenmount had already compiled 262 for 5 and were far from finished as Dan Stevens and Ryan Senior completed yet another 50 partnership in the last eight overs.
Stevens finished with a busy 24 not out from just 18 balls while Senior hit an unbeaten 28 from 26 balls including one six. An excellent all round team batting effort.
Unfortunately at this point the weather decided to come to Crompton's mercy and after a two- hour delay the mysteries of the Duckworth Lewis Stern method declared a target of 173 from 20 overs.
The game was eventually abandoned after eleven overs with Callum Hunter and Evan Williams taking a wicket apiece whilst Jacques offered a glimpse of his outstanding fielding ability with an excellent catch and run out.
It was a disappointing damp squib end to a sparkling performance laced with fine highlights, two games, two wins for the weather.
It's a long season which isn't decided by the end of April – we go again next Sunday at home to Colne.
Thanks go to the travelling support who braved the cold to get behind the team.
Match abandoned: 5 points. Greenmount 316 for 5 (50 overs ) Crompton 77 for 3 (11 overs )
Meanwhile the seconds lost at home to Crompton in another game affected by weather and DLS.
Greenmount scored 163 for 6 with Jake Chadwick hitting a typically belligerent 33. There was a useful contribution of 26 from Andy Bowker and only a glimpse of entertainment from Kieran Edwards who was rather unfortunately given out when threatening to dominate.
The highlight of the innings was a patient and well compiled debut knock of 55 from 15-year-old George Mills who dug in and worked very hard for his runs.
The Crompton reply was led by the experienced John Punchard who finished unbeaten on 61 against a largely young Greenmount attack for whom Luca Addleton and Ewan Malone took the wickets to fall.
Saturday's third team home match against Nelson was postponed due to an unfit ground.