With former player and club sponsor Gareth Williams
Name: Gareth Williams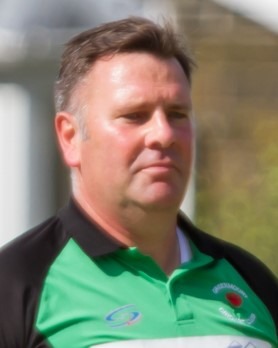 Nickname: Many years ago Mark Price of Ramsbottom CC nicknamed me 'The Galloping Major'. I have never understood it but players of a certain vintage still refer to me as 'Galloping'. I have been called much worse but I have never really had a nickname.
How would you describe your game? I was an opening bowler with decent control and would try and bowl to the batsman's weaknesses. I had pretensions to bat but never fancied anything above military medium. In many ways I was ahead of my time as my reluctance to get in line caused me to clear my front leg and would try to hit every ball out of the ground.
What got you interested in cricket? My dad played cricket so I was brought up going to games on a Saturday with him.
Who is your all-time cricketing hero? I was a youngster in the days of Ian Botham and of West Indian dominance. My favourite players were Botham and Viv Richards.
Who is your current favourite player and why? I enjoy watching Joe Root bat. He manes the game look very simple and must be very difficult to bowl to.
Who is the best player you have played with both professional and amateur? I have been very fortunate to play with and against some of the best players to play the game including Mark Taylor, Matthew Hayden and most recently Pat Cummins. Even though he never played for Australia, Jamie Siddons was a fantastic player and I enjoyed watching him bat. I have also been very fortunate to play with some very good amateurs both at club level and with the MCC. I always had the utmost admiration for John Ashworth. I can only imagine who far he would hit a ball with the modern bats.
Who is the opponent you most admired as a player? As I said above I have been privileged to have played with and against some very good players. Two that stand out I played with and against both of them, Mark Stewart and Darron Foy. Darron was a very good all-round player with bat and ball and when the mood took him could be devastating. You always knew what you were going to get with Stewey and it wasn't much fun facing him at the old British Aerospace ground.
What was your favourite away ground? We are fortunate that there are a number of good grounds in the local area. I once took nine wickets as a youngster at Bradshaw and coupled with the good teas that they provided made Bradshaw a particular favourite. I have been fortunate to play at some very good grounds across the British Isles including on the coast in the Isle of Man and in Sark and Alderney. My favourite ground I have played at, and more recently watched at, is at Sedbergh School.
What is the most memorable match you played in? It would have to be the 1995 Cross Cup final when Elton beat the much-fancied Atherton. I was captain of Elton and ended up being Man of the Match.
What is your personal 'champagne moment'? I have enjoyed many memorable moments but what has given me the most pleasure was watching the youngsters I coached being crowned Lancashire champions for three consecutive years. I also enjoyed bringing Callum Hunter and my son Evan through the second team when I was the captain and watching them develop into integral members of the first team where they have been joined by Matthew Senior and Dan Stevens.
If you could pick a group of three cricketing legends for a night out who would they be and why? I quite fancy a night of fine food and wine with Ian Botham and David Gower and possibly Mike Atherton to keep a semblance of order!