The weekend began on sunny Saturday where you would have been forgiven for thinking summer had arrived – but by Sunday evening the shorts had been swapped for jeans and the first team match ended in gloomy and wet conditions – normal service resumed.
Saturday saw a welcome return to cricket at the Mount when a Fourth Development team took on a similar outfit from Todmorden.
Led by Greenmount legend Dave Mason, the development team is all about offering senior experience to young players, interspersed with a few `wise` heads to offer a guiding hand.
The result was secondary – although we did actually win. Nevertheless, the match was played in excellent spirit and saw some fine individual performances from both sets of young players.
Dave Mason graced us with an elegant 32 before graciously retiring to allow the younger lads centre stage – this was well received by Sam Woolley who plundered a superb unbeaten 77 in response before going on to take 3-10 in a man-of-the-match performance.
Bowling was equally good with a particularly good spell from 12-year-old George Kenyon on senior debut whilst Ben Clarke impressed once again alongside a much improved Dexter Crowther. A good time was genuinely had by a decent crowd.
Earlier, Tom Clarke was unlucky to miss out on a first senior 50, caught for 46 whilst Ed Wackrill bothered the sheep a couple of times on his way to an unbeaten 30.
On to Sunday, and the first team hosted high-flying East Lancashire who are showing strong early season form.
Batting first, Tom Heaton and Evan Williams made a confident and solid start before Tom was caught at the third attempt from a skier.
This brought Andy Kerr to the wicket and he soon hit his stride with some sumptuous strokes for four to bring up his first half century of the season.
Evan also reached his 50 and at 123-1 and a partnership of 90 it was once again a surprise to lose Andy LBW just as he was in full swing.
At this point the crowd may have anticipated a firework show from Jacques Snyman but much to everyone`s disappointment – aside from a jubilant East Lancs team – he attempted to launch the ball into space and after a lengthy descent thit was caught by the keeper.
Travis Townsend grittily attempted to bring the momentum back alongside Evan however East Lancs bowled tightly and with discipline, taking wickets at vital moments with Evan falling for 69 (10 fours and two sixes) and Travis for 32 (4 fours and a six).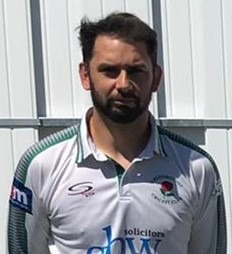 With 10 overs to go the score was feeling behind where we had expected. Dan Stevens came in and demonstrated intent with a trademark six over extra cover but it was left to Ryan Senior once again to bring the innings home with some positive momentum, blazing an unbeaten 33 from 20 balls with 3 fours and 2 sixes to close the innings on 239-6.
Ryan has still not been dismissed this season.
East Lancs started their reply with intent , Callum Hunter had the first wicket well held at slip by Snyman before frustratingly rain arrived, shorts were discarded for anything dry and warm and we played the hokey cokey with the covers while the rain couldn`t quite decide whether to stop or keep going!
DLS is beyond everyone`s understanding but an adjusted target was set for East Lancs from 17 overs and they set about it in a very methodical and calm manner with Joe Bolton (51), professional Zahid Mansoor (32) and Niall Boyle unbeaten on 60 doing the hard yards.
Matthew Senior bowled encouragingly well on return from injury with 1-23 whilst Evan Williams picked up 1-40 with an excellent catch from Travis in the murky outfield.
The game went to the last over and was keenly fought yet we only achieved a single bonus point for a close game – another anomaly in the weird experience that is DLS. Oh for a weekend with no rain or messing about with covers and sheets!
Meanwhile the other gripe of the season to date is getting reliable updates from Play Cricket – this was certainly the case as Oliver Dixon`s second team won by 13 runs in a close game away at East Lancs.
Batting first Greenmount made 17, the highlights being a fine 41 from Nige Franklin and a well compiled knock of what appears to be anything from 32 to 38 from young Rupert Hallows, although updates of the match vary!
We definitely bowled them out for 160 and there were wickets for Richard Catterall , (how good to see him running in once again after injury), Ollie Dixon and Ryan Edge.
This was a timely boost to morale for the seconds and it was great to see some solid senior player performances to assist the younger players. Let's hope we can now build some positive momentum and harness the returning experience with some of the great performances from our younger players going forward.
And whisper it – the forecast for the weekend ahead looks good!